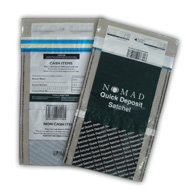 Deposit Bags
Bank Compliant Cash and Deposit Bags
TamperVoid® deposit bags use the highest level of tamper evident technology for Platinum, Silver and Bronze levels of applications. Nomad deposit bags are designed for over the counter, in branch, night deposits, armoured car transfers and direct to vault deposits. They are available in single pouch, dual vertical pouch and dual horizontal pouch, with external document or cheque sleeve. Tear off receipts available with matching sequential numbering and barcoding.
Simple the most secure deposit bags available on the market. All styles are endorsed by the Australian Federal Government's ASIO SCEC endorsement.