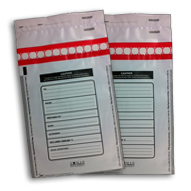 Tampervoid® Platinum
The most secure tamper evident closure for applications where the highest level of security and maximum strength are required.
The most secure and unique tamper evident closure is fully resistant to heat, freon, moisture, dry ice, solvents and temperature controlling agents which can be used to open other types of bags without leaving any evidence of tampering. The Platinum range has been designed for applications where maximum levels of security are required.
Features include a double side weld, printing along the edges, overlapping closure so bags have a degree of water proofing qualities and an incredibly strong tamper evident security tape.
TamperVoid® Platinum Products are ideal for:
Availability:
TamperVoid® Platinum products are available in a variety of styles and sizes including: